'Make us a component part of your business'
ENQUIRY FORM
C200 COLLET KNOB
The collet knob on this page is available in five sizes to fit on three potentiometer spindle diameters (Collet diameter = Spindle diameter). Each knob can be requested with a choice of colour for the lid and arrow.

As a suggestion, use the diagram to help choose the Body 'B' dimension from the appropriate area of the table below, make a note of the Body reference then select the Collet colour and diameter for your spindle; the colour for your Lid; and the colour for your Arrow.
Finally, use the email form at the bottom of this page to send your enquiry to Omeg.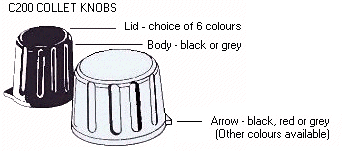 LID
BODY
ARROW
C236L
|
C236K
|
C236A
Black
201360
|
A=34 mm, B=36 mm, C=20 mm
|
Black
202360
Grey
201361
|
Collet Dia.
6 mm.
Black
236060
Grey
236160
|
Grey
202361
Red
201362
|
Collet Dia.
6.35 mm. (¼")
Black
236063
Grey
236163
|
Green
201365
|
|
Blue
201366
|
|
|
|
C228L
|
C228K
|
C228A
Black
201280
|
A=26 mm, B=28 mm, C=18 mm
|
Black
202280
Grey
201281
|
Collet Dia.
6 mm.
Black
228060
Grey
228160
|
Grey
202281
Red
201282
|
Collet Dia.
6.35 mm. (¼")
Black
228063
Grey
228163
|
Yellow
211284
|
|
Green
201285
|
|
Blue
201286
|
|
|
|
C221L
|
C221K
|
C221A
Black
201210
|
A=19 mm, B=21 mm, C=17.5 mm
|
Black
202210
Grey
201211
|
Collet Dia.
4 mm.
Black
221040
Grey
221140
|
Grey
202211
Red
201212
|
Collet Dia.
6 mm.
Black
221060
Grey
221160
|
Yellow
201214
|
Collet Dia.
6.35 mm. (¼")
Black
221063
Grey
221163
|
Green
201215
|
|
Blue
201216
|
|
|
|
C215L
|
C215K
|
C215A
Black
201150
|
A=13.7 mm, B=15 mm, C=16 mm
|
Black
202150
Grey
201151
|
Collet Dia.
3 mm.
Black
215030
Grey
215130
|
Grey
202151
Red
201152
|
Collet Dia.
4 mm.
Black
215040
Grey
215140
|
Yellow
201154
|
Collet Dia.
6 mm.
Black
215060
Grey
215160
|
Green
201155
|
Collet Dia.
6.35 mm. (¼")
Black
215063
Grey
215163
|
Blue
201156
|
|
|
|
C210L
|
C210K
|
C210A
Black
201100
|
A=9 mm, B=10.5 mm, C=13.5 mm
|
Black
202100
Grey
201101
|
Collet Dia.
3 mm.
Black
210030
Grey
210130
|
Grey
202101
Red
201102
|
Collet Dia.
4 mm.
Black
210040
Grey
210140
|
Yellow
201104
|
|
Green
201105
|
|
Blue
201106
|
|
|
|
Please complete ALL details below and click 'Send Form'
LID

BODY

ARROW

Note. All 3 items - 'lid', 'body' & 'arrow' need to have the same type prefix.
ie. C236 or C228 or C221 or C215 or C210
Quantity
Order No.
(As applicable)
Date Required
Email Address *
Telephone No.
Fax. No.
Address
Special Request
Name *
Job Title
Company
Type of Business