'Make us a component part of your business'
OMEG CP20 SERVO POTENTIOMETER
The Servo Potentiometer is an angular feedback position sensor.

The OMEG range of servo potentiometers are constructed with a precision ball bearing system and long life flush bonded conductive track. The wipers are nickel silver based for low contact resistance.
Mountings are by bush and locknut, servo clamp or 3 hole fixing on the front face.
A centre tap is available to special order.
Electrical and Mechanical Specification
Power Dissipation at 20°C 5.0 W
Electrical Angle: 300°, 90° or special
Resistance Range: 1K to 50K
Resistance Tolerance: ± 10%
Independent Linearity: 1% standard
Insulation Resistance: 50 M ohms at 500V dc
Dielectric Strength: 1000 V rms
Temperature Coefficient: ± 200 ppm/°C
Temperature Range: - 65° C TO +130° C
Mechanical Rotation: 360° continuous
Starting Torque: 10 gm-cm Max.
Wiper Velocity: 1200°/sec Max.
Life: > 10 million cycles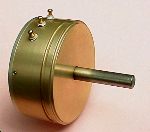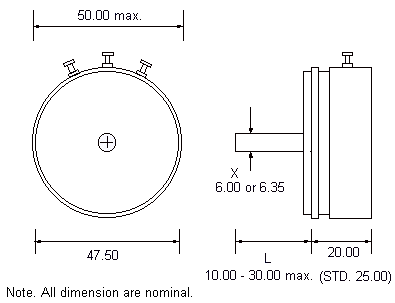 To order, construct a part number from the following information as shown in the following example,
Part No. CP20/10K/300/6/25 means:
CP20
10K resistance
300° electrical angle
6mm spindle diameter(X)
25mm spindle length(L)
Add the '/CT' suffix if a centre tap is required