'Make us a component part of your business'
OMEG ECO BUSH HOUSING AND SPINDLE
This page provides the basic dimensions, bush and spindle information for the ECO product range of Omeg potentiometers.
Basic dimensions
Bush Housing
Spindle options:

6.0mm Diameter
4.0mm Diameter
6.35mm Diameter
Splined Spindle
Go to ECO Potentiometer Data for the electrical and mechanical specifications; and
go to ECO Potentiometer Types to select the unswitched model types available in this range.
ECO BASIC DIMENSIONS
In the diagram below the potentiometer terminals are marked A, S and E.
A = Initial termination
S = Wiper (or moving contact) termination
E = End termination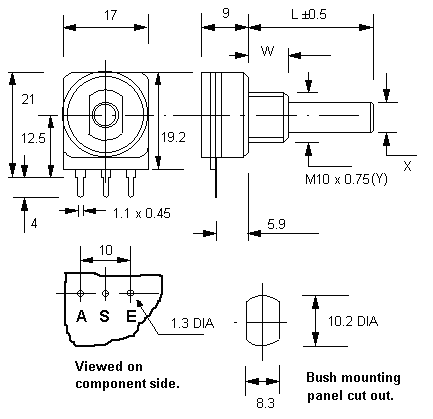 ECO BUSH HOUSING
The ECO bush housing is made of glass filled nylon, the thread is M10 x0.75mm pitch and 8mm long, alternatively a 12mm long thread is also available from October 2008.

Do not attempt to prevent any unwanted body rotation by overtightening the retaining nut, since this can cause thread damage, distortion, change of electrical resistance and restrict shaft rotation. BS9130:1972 provides further details on this topic. The recommended torque for tightening the retaining nut is 45cN.m and this can be achieved cost effectively by using a Torque Limiting device as shown on our Accessories page.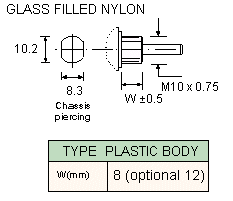 ECO SPINDLES
The ECO plastic spindles are fixed and not removable.
They are available in the following three diameters:
6.0mm Diameter - Length (L) available from 14mm to 65mm

Cylindrical (Type F1)
4.0 x 12mm Flat (Type F2)
5.0 x 15mm Flat (Type F3)
5.0 x 10mm Flat (Type F4)
4.6mm x 15mm Flat (Type F11)
4.0 x 8mm Flat (Type F13)
5.0 x 8mm Flat (Type F14)

4.0mm Diameter - Length (L) available from 14mm to 35mm

Cylindrical (Type F21)
3.0 x 8.5mm Flat (Type F22)

6.35mm Diameter - Length (L) available from 14mm to 65mm

Cylindrical (Type F41)
5.5 x10mm Flat (Type F42)
Cylindrical and Flatted Spindles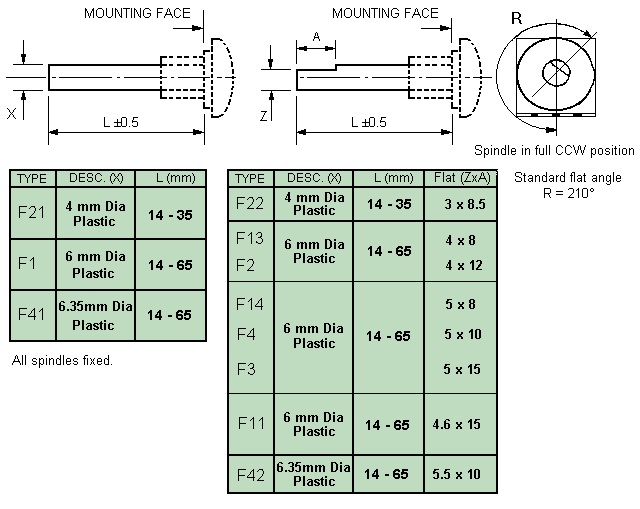 Splined Spindle (6.0mm diameter)
A splined form is also available on the 6.0mm diameter ECO plastic spindle.
Please note that this splined form is only available in a length (L) of 19mm.