'Make us a component part of your business'
OMEG ROTARY SWITCH DATA
This page provides the specification and switch terminal configuration for the Omeg Rotary Switch potentiometer; also the basic dimensions for the rotary switch module mounted on three different potentiometers.

Please use your browser's Back Arrow to return to the previous page or use the navigation links above.
Basic Dimensions (typical examples)
Rotary Switch Specification
Switch Terminals
Switch Functions
BASIC DIMENSIONS
The following are provided as typical examples only. The specific dimensions can be found for each model from the relevant link on the Potentiometer Type page.
In the diagrams below the potentiometer terminals are marked A, S and E.
A = Initial termination
S = Wiper (or moving contact) termination
E = End termination
Rotary Switch with ECO Potentiometer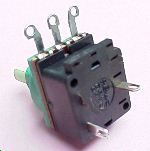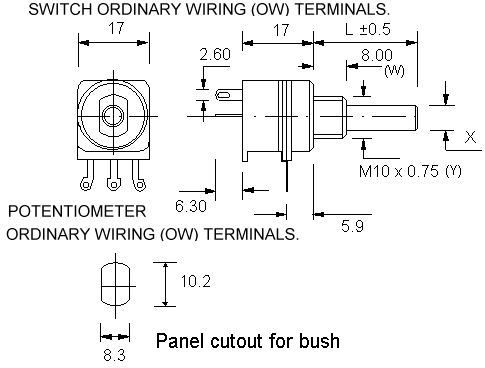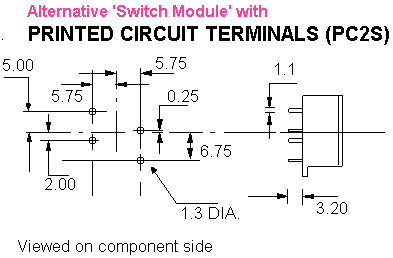 Rotary Switch with P16 Potentiometer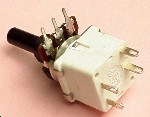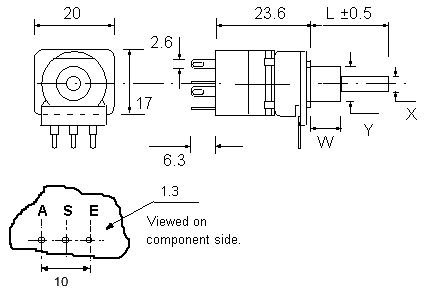 Rotary Switch with P20 Potentiometer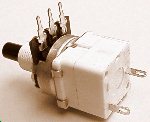 The rotary switch module is Certified by UL International Demko A/S to EN61058-1 with Cenelec Certification Agreement (CCA) and the 1A contact rating is only available when mounted on the ECO potentiometer. NOTE This is a European and NOT an American certification.

Our Rotary Switch Certificate is here.
1A Contact Rating:
Note: The 1A contact rating is NOT available for mounting on the P16 or P20 potentiometer.
1A/250Vac 2.5A/12Vdc
Surge rating (0.01 seconds): 20A
Contact gap: 3mm (Full mains separation of contacts)
4A Contact Rating:
4A/250Vac 10A/12Vdc
Surge rating (0.01 seconds): 80A
Switch contacts: Silver tin oxide
Contact gap: 2mm (Micro disconnection of switch - micro separation of contacts)
COMMON features:
Housing material: Glass filled polyester (UL 94 VO)
Initial contact resistance: 20 milliohms
Insulation resistance: 50,000 Megohms
Life (operations at full load): 10,000 minimum
Operating temperature: -25°C to +70°C
Operating torque for SPST/SPDT: 1.5 - 3 cNm
Operating torgue for DPST/DPDT: 3.0 - 6 cNm
Mechanical rotation: 300°
Proof voltage: 3kV minimum
ROTARY SWITCH TERMINALS
Layout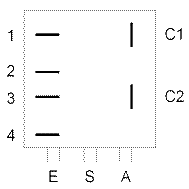 Diagram as viewed on the rear of the switch module:
(Potentiometer terminals at the bottom)
Configuration

SPST - Single pole (1S), Single throw (On-Off)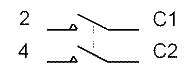 DPST - Double pole (2S), Single throw (On-Off)

SPDT - Single pole (1S), Double throw (CH)
(
NOT
certified)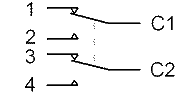 DPDT - Double pole (2S), Double throw (CH)
(
NOT
certified)
Notes
1. Moving contact(s) shown when the potentiometer shaft is in a counterclockwise (CCW) position.
2. 'Ordinary Wiring'(OW) or 'Printed Circuit'(PC) terminals can be requested on the switch.
3. Terminals 1 and 3 are only fitted for the Double Throw ('CH' or Changeover) versions which are NOT approved nor certified.

ROTARY SWITCH FUNCTIONS

Standard
(1A or 4A contact ratings)
N/O normally OPEN Switch
Contacts normally OPEN;
CLOCKwise rotation to CLOSE contacts

Option 1
(4A contact rating only)
N/C normally CLOSED Switch
Contacts normally CLOSED;
CLOCKwise rotation to OPEN contacts

Option 2
(4A contact rating only)
REVERSED N/O normally OPEN Switch
Contacts normally OPEN at fully clockwise position;
ANTI-clockwise rotation to CLOSE contacts

Option 3
(4A contact rating only)
REVERSED N/C normally CLOSED Switch
Contacts normally CLOSED at fully clockwise position;
ANTI-clockwise rotation to OPEN contacts